The History of Vinyl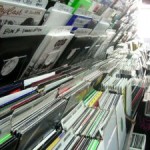 In 1930, RCA Victor launched the first commercially-available vinyl long-playing record, marketed as "Program Transcription" discs. These revolutionary discs were designed for playback at 33⅓ rpm and pressed on a 12″ diameter flexible plastic disc. In Roland Gelatt's book The Fabulous Phonograph, the author notes that RCA Victor's early introduction of a long-play disc was a commercial failure for several reasons including the lack of affordable, reliable consumer playback equipment and consumer wariness during the Great Depression.
However, vinyl's lower playback noise level than shellac was not forgotten. During and after World War II when shellac supplies were extremely limited, some 78 rpm records were pressed in vinyl instead of shellac (wax), particularly the six-minute 12″ (30 cm) 78 rpm records produced by V-Disc for distribution to US troops in World War II.
Beginning in 1939, Columbia Records continued development of this technology. Dr. Peter Goldmark and his staff undertook exhaustive efforts to address problems of recording and playing back narrow grooves and developing an inexpensive, reliable consumer playback system. In 1948, the 12″ (30 cm) Long Play (LP) 33⅓ rpm microgroove record was introduced by the Columbia Record at a dramatic New York press conference.
The commercial rivalry between RCA Victor and Columbia Records led to RCA Victor's introduction of what it had intended to be a competing vinyl format, the 7″ (17.5 cm) / 45 rpm Extended Play (EP). For a two-year period from 1948 to 1950, record companies and consumers faced uncertainty over which of these formats would ultimately prevail in what was known as the "War of the Speeds".
Eventually, the 12″ (30 cm) / 33⅓ rpm LP prevailed as the predominant format for musical albums, and the 7″ (17.5 cm) / 45 rpm EP or "single" established a significant niche for shorter duration discs typically containing one song on each side. The EP discs typically emulated the playing time of the former 78 rpm discs, while the LP discs provided up to one-half hour of time per side.
After the introduction of high-quality but expensive stereo reel-to-reel tapes in 1955 and the increasing public fascination with stereo sound, intense work was undertaken to devise a scheme for recording stereo sound on 12″ (30 cm) / 33⅓ rpm LP. In late 1957, a system of cutting and playing back stereo was devised and generally accepted by the industry. Consumer acceptance of stereo LPs was somewhat cautious initially but grew steadily during the early 1960s, and the industry largely discontinued production of conventional monaural LP records and playback equipment by 1968. Similarly, the introduction of high-quality but expensive quadraphonic (four channel) reel-to-reel tapes and 8-track tape cartridges in 1970 led to the introduction of quadraphonic vinyl records, which arrived on the market in 1972. Although public interest was initially high, the lack of compatibility between the three competing SQ, QS, and CD-4 formats prompted the eventual commercial failure of quadraphonic LP records. Most record companies stopped producing quadraphonic LPs after 1975 although a handful of classical-music titles continued to be issued until 1980.
Other major developments worth noting:
During the early 1970s, a cost-cutting move towards use of lightweight, flexible vinyl pressings. Marketed by RCA Victor as the Dynaflex process, much of the industry adopted a technique of reducing the thickness and quality of vinyl used in mass-market manufacturing. In many cases, this included using "regrind" vinyl as a means of cutting manufacturing costs.
During the late 1970s, an audiophile-focused niche market for "direct-to-disc" records, which completely bypassed use of magnetic tape in favor of a "purist" transcription directly to the master lacquer disc.
During the early 1980s, an audiophile-focused niche market for "DBX-encoded" records, which were completely non-compatible with standard record playback preamplifiers, relying on a sophisticated DBX noise reduction encoding/decoding scheme to virtually eliminate playback noise and increase dynamic range. A similar and very short-lived scheme involved using the CBS-developed "CX" noise reduction encoding/decoding scheme.
During the late 1970s, an audiophile-focused niche market for "half-speed mastered" and "original master" records, using expensive state-of-the-art technology.
During the late 1970s and 1980s, the use of highly advanced disc cutting equipment to improve the dynamic range and reduce inner-groove distortion of mass-produced records, using techniques marketed as the CBS Discomputer and Teldec Direct Metal Mastering.
Although replaced by digital media such as the compact disc as a mass market music medium, vinyl records continue to be manufactured and sold in the 21st century. Historically the most common formats are:
* 12″ (30 cm) / 33⅓ rpm LP
* 7″ (17.5 cm) / 45 rpm EP or Single
followed by:
* 10″ (25 cm)/ 45 rpm LP (superceeded by 12″ (30 cm) / 33⅓ rpm LP in the 60's)
* 12″ (30 cm) / 33 or 45 rpm Maxi Single (introduced in the 80's)
Today most of the records are issued in 12″ (30 cm) LP or Maxi Single.
The sound quality and durability of vinyl records is highly dependent on the quality of the vinyl used. Most vinyl records are pressed on recycled vinyl. New "virgin" or "heavy" (180-220 gram) is commonly used for classical music, although it has been used for some other genres. Today, it is increasingly common in vinyl pressings that can be found in most record shops. Even modern albums like Shellac's and Mission of Burma's latest are pressed on 180 g/m² vinyl, though most are reissues of classic albums, like The Clash's series of reissues. These albums tend to withstand the deformation caused by normal play better than regular vinyl.
While most vinyl records are pressed from metal master discs, a technique known as lathe-cutting was introduced in the late 1980s by Peter King of Geraldine, New Zealand. A lathe is used to cut microgrooves into a clear polycarbonate disc. Lathe cut records can be made inexpensively in small runs. However, the sound quality is significantly worse than proper vinyl records, and lathe cut records tend to degrade further in quality after repeated playing.
This piece is cross-posted from The Vintage Record with permission from the author.